Angie Laabs' Story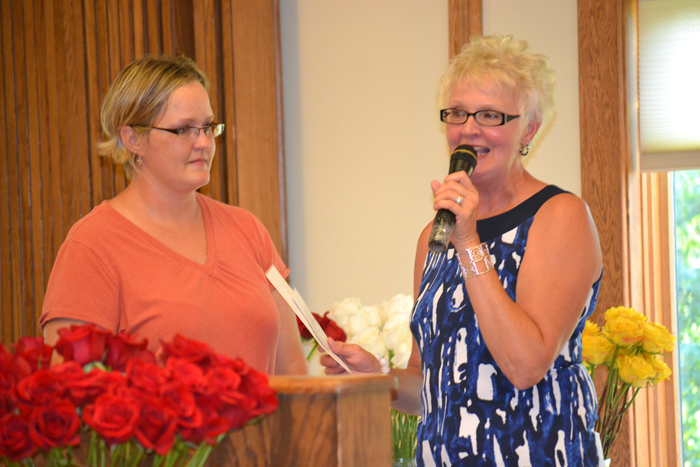 Angie Laabs of Panora was the picture of health. But in March 2008, a bout with the flu had her vomiting so hard she tore a carotid artery. A blood clot formed and she suffered a stroke.
After 12 days in intensive care, Angie emerged completely paralyzed on her right side. She also had severe aphasia, a disorder that results from damage to portions of the brain that are responsible for communication. She arrived at the Younkers Rehabilitation Center in Des Moines in a wheelchair, unable to talk.
Lana Laabs of Jamaica is Angie's mother. "She had to relearn her ABCs, the days of week, how to count, the difference between up and down and so much more," Lana says.
After six weeks at Younkers, Angie was able to walk about 200 feet, but used her wheelchair much of the time. And her communication skills still were limited.
"When we came to Timber Creek in May 2008, the horse riding was a real plus for Angie," says Lana. "Cindy got her on the horse and in the pool immediately for both speech and physical therapy. We could see a real difference within two weeks."
Fast forward three years. Angie and her parents, Lana and Mike, are members of the Fountain of Life Church, located a mile south of Panora on Wagon Road. During a Sunday service, Pastor Randy Leib was talking about the many missions the church supports, mostly in foreign countries.
"I got to thinking we have a mission in our own backyard – Timber Creek," Lana says. "There is a great need for people to receive the therapy services available there, but many don't have insurance and can't afford it, or their insurance doesn't cover all the therapy they need. So much hope and healing takes place at Timber Creek, and I thought it would be a great thing for our missions money to support."
Lana talked to Pastor Leib about the possibility of giving some of the church members' money that had been designated for mission work to Timber Creek Charities. He talked with the board and within two weeks, she had a check for $500, which she presented at the banquet following the 2011 golf tournament.
A few months later, another $500 check came from the Fountain of Life Church, for a total donation of $1,000 in 2011. In 2012, the church donated $1,200 to Timber Creek Charities.
Angie has received assistance from Timber Creek Charities when she reached the maximum number of therapy sessions her insurance would cover each year. The charity also has covered Angie's therapeutic riding sessions, which are not covered by insurance.
"I just can't say enough good things about Timber Creek," says Lana. "It has been such a blessing to us. We call it heaven on earth."