Zach Hayden's Story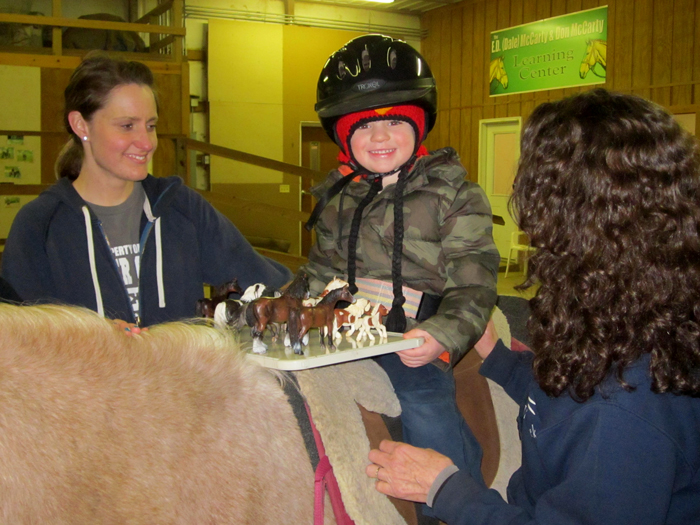 As a baby, Zach Hayden wasn't making sounds of mimicking words spoken to him. Zach is the son of Dominic and Samantha Hayden of Linden.
"When he was 16 months old, I asked his doctor about it and was told not to worry, that boys talk later than girls. When I raised the issue again a couple of months later, I was told I should try harder to MAKE him talk," Samantha says. "That ended up with both of us in tears, but still no words."
As Zach approached his second birthday without talking, he entered an Area Education Agency (AEA) early intervention program. A therapist who worked with him a few times said she could tell Zach was smart and wanted to talk, but couldn't. A second AEA therapist then did an evaluation, and suspected he had childhood apraxia of speech.
Children with apraxia of speech have problems saying sounds, syllables and words. It's not because of muscle weakness or paralysis, but rather a scrambling of motor sequences in the brain.
Once there was a diagnosis, the AEA therapist recommended Timber Creek Therapies. The Hayden family lives just 15 miles from the therapy center. "She said even if we lived in Des Moines, she would recommend we come to Timber Creek," Samantha says.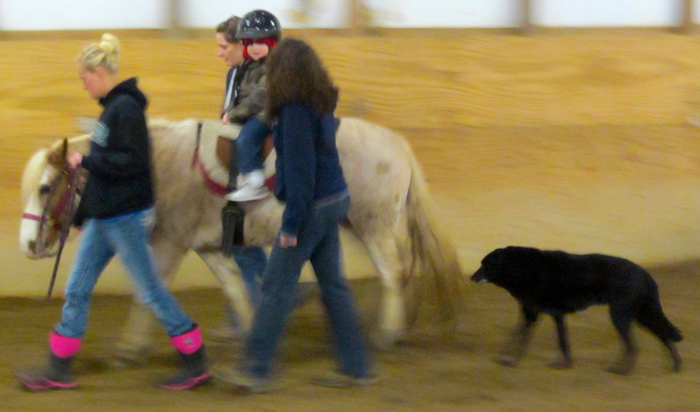 Riding a horse stimulates Zach's spinal column and brain. That makes it a good time for his speech therapist, Cindy McCarty, to work with him.
One activity involves placing plastic animals on a tray balanced on the horse's neck in front of Zach. Cindy starts with a tray full of horses, since horses are favorites. Zach is asked to do several things, such as count the horses, pick out the spotted horses and so on.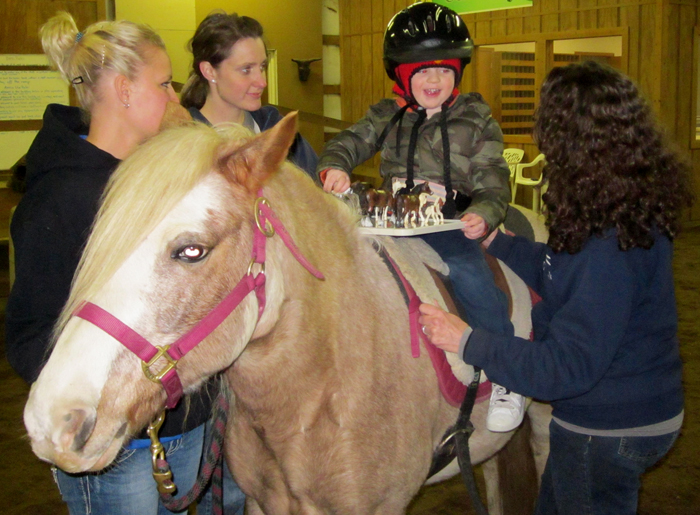 Other animals are substituted for the horses – a giraffe, an elephant, a lion – and Zach identifies and counts these new animals.
Then it's time to ride around the arena again, with stops for new activities. Zach works on sounds, responds to a series of three commands, answers questions from Cindy and two assistants.
McCarty says childhood apraxia isn't common, which is one reason it was difficult for the Hayden family to get a diagnosis. And once they got the diagnosis, they were told Zach might never talk.
"But he's made tremendous progress," McCarty says. "He's very verbal now and doing extremely well. I believe he will be able to achieve functional communication and language skills."
The family's insurance policy paid for one year of therapy, but coverage beyond that first year was denied. After an appeal, just four additional therapy sessions were approved.
That's when Timber Creek Charities came to Zach's rescue. Now the Haydens pay $5 per session and charity funds cover the rest.
Samantha says Zach has made "tons of progress" since coming to Timber Creek. "We are so grateful, both for the therapy he has received, and also for the financial help when insurance stopped paying," she says. "If you look back over the long-term, I know Zach wouldn't have made it so far without the help of Timber Creek."