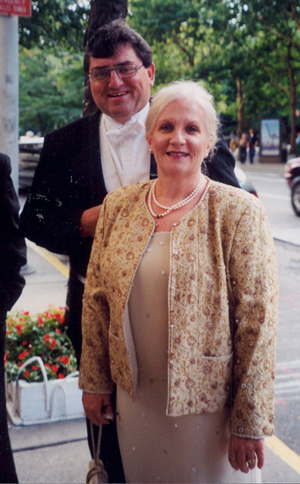 Honoring family and friends through charitable giving
Or mail a check to:
Timber Creek Charities
2400 Poplar Avenue
Guthrie Center, IA 50115
Questions? Call 641-747-3225
Julie Dimitri
Julie Dimitri did not have the chance to visit Timber Creek Therapies, yet her husband, George Dimitri, knows she would be pleased to be able to contribute to such a worthy cause. Julie had a way of touching the lives of everyone she encountered whether it was through her witty sense of humor, positive attitude, great advice or loving disposition. So it seems apropos that she continues to impact others at Timber Creek Therapies through the memorial contributions made in her honor.
George is a member of the Timber Creek Charities board of directors and was a long-time friend of Don Gillespie, who was instrumental in helping Cindy McCarty develop her Timber Creek Therapies dream. "I got to know Cindy after Don passed away," George says. "Don had talked to me about Cindy and Timber Creek, and I knew it was important to him."
Julie and George met in college at Iowa State and married shortly thereafter in 1969. They started their 40+ year marriage in Chicago where George worked in the construction industry and Julie worked in advertising and the non-profit sector. Before long, Julie and George moved to a suburb of Chicago – Naperville – where Julie found her true calling as a devoted mother to their three children, Michel, Jamie and Dana.
"Julie went above and beyond as a mother. She was instrumental in shaping our children into who they are today. We are a close knit family because of her constant love and support," says George. Julie was diagnosed with breast cancer at the age of 35. "She prayed she could live long enough to raise her kids, and was able to do that," he says. "She really loved her kids."
Once their children went off to college, Julie and George moved back to Chicago where they enjoyed city life, whether trying the new, local brunch spot or walking along Lake Michigan.
Julie survived breast cancer (age 35) and melanoma (age 58). During her two-year battle with brain cancer, she never lost her sense of humor and continued to make others smile. Julie passed away on August 7, 2012. "I know Julie would be pleased to have her memorial money benefit the work being done at Timber Creek." George says.
A total of $7,505 was donated to Timber Creek Charities in memory of Julie Dimitri.