Volunteers Help Make Timber Creek Possible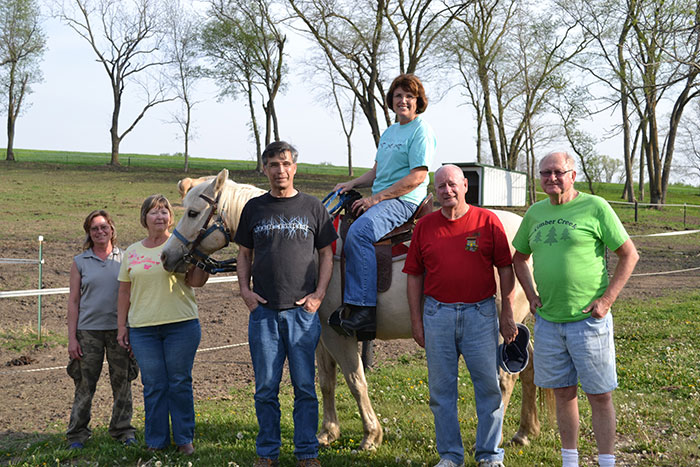 Dictionary definitions of the word "charity" encompass what happens at Timber Creek on a daily basis.
On one hand, charity is defined as "a charitable fund, foundation or institution." Timber Creek Charities is a nonprofit entity. Constant fundraising helps keep the coffers just full enough to meet the need.
Another definition of charity – "generous actions to aid the ill or helpless." That's the definition that speaks to the volunteers who make some Timber Creek programs possible. They help in many ways, but most assist with the riding programs. One person leads the horse and two others walk on each side to provide safety and support to the rider.
"We've had a lot of volunteers come and go over the years, but a core group of people have come faithfully for many years," says Cindy McCarty, director of Timber Creek Therapies. "These are people we can call at the last minute, and they will drop what they are doing and come."
Ted Erickson was one of the first volunteers. He's a regular each week when residents from New Hope Village in Carroll come to ride. "You form a bond with them," Erickson says. "This is therapy for me, too. You may think you have problems, but when you leave here, you don't have any problems at all."
Duane and Joyce Spicer are regulars for evening groups, but also help during individual sessions. Joyce says at first she was uneasy about being around the horses, but she soon learned to love both the horses and the people. Duane says he enjoys helping both the clients and the Timber Creek staff. "These are people with positive attitudes, who are genuine and conscientious," he says.
Ed Woolman was a Timber Creek patient before he became a volunteer. A stroke and seizures left him unable to walk. The physical therapy he received on horseback, in the pool and in the exercise room eventually got him back on his feet. "I felt volunteering was a way I could give back," Woolman says.
Jean Densmore has been helping with a Monday evening group since the beginning. "I like the interaction with the clients," she says. "The happiness it brings, the smiles on their faces."
Pam Kunkle says as a Christian, she looks at the people on horseback and sees the face of Jesus. "I think of the Scripture that says — 'Whatever you did for the least of these, you did for me.' That keeps me coming back," she says."
David Lantz thinks he gets a lot more out of his time at Timber Creek than the clients. "The little kids are such a joy to work with," he says. "I can't say enough good things about this place. It's amazing what they do for people."
Barb Hoehne started volunteering because she loves horses. "Then I met the adults and kids who benefit so much," she says. "Now it's a combination that keeps me coming back. The clients I work with have so many handicaps, but still love to ride the horses and visit with the volunteers."
LeRoy Oxley helps both during individual sessions and evening groups. "I feel so good when I leave here, after helping make someone else's day better," Oxley says.
Linda Wendl's original interest was in finding a place to ride horses. Someone suggested if she volunteered, she could ride and help with the horses without paying anything. She's been a regular on Tuesday nights with New Hope Village clients ever since.
"It's not what I do for these people, but what they do for me that keeps me coming back," Wendl says. "They're always so happy to see me, and I enjoy talking with them. I just feel so good after I've spent an evening at Timber Creek."
To learn more about volunteer opportunities, call 641-747-3225.